As a UM graduate of the past ten years, you are among the newest 'Canes to be blazing trails, setting trends, and making your mark on the world—so we need you to stay engaged. Get involved with the University of Miami Young Alumni Program–a plan to connect you with the many advantages of being a 'Cane for Life!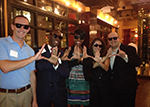 Stay Connected
Update your contact info and connect with classmates



Rock Like a Hurricane
From pregame parties to networking events, be part of the fun through your local 'Canes Community.


Feel Great About Giving Back
Every gift strengthens your degree and helps deserving students reach their goals



Fast-Track Your Career
Take advantage of free career development and networking opportunities 



Share Your Skills
Help us to help others by volunteering your time and talents



Score Sweet Benefits
Discover the many deals, discounts, and services just for 'Canes


Young Alumni are the future leadership of the UM Alumni Association. By staying connected and involved, you will:
Strengthen your lifelong relationship with the U
Maintain our rich history and cherished traditions
Help shape UM's future growth
Ensure the continuity of alumni leadership
Increase the value of your degree


GET SOCIAL!
Follow us on social media and become a UM ambassador on 'Cane Social! Stay connected to the U, and earn points to win swag! Learn more at www.miami.edu/canesocial!