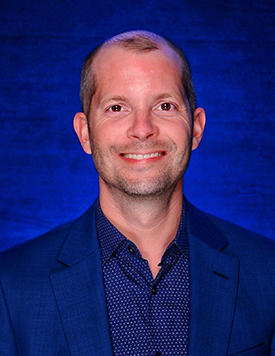 Javier Morgado
Executive Producer
CNN's At This Hour
Javier Morgado is the new Executive Producer of CNN's 11am show At This Hour with Kate Bolduan. For nearly 7 years, he was the Executive Producer of CNN's morning show New Day, where he was responsible for overseeing the editorial production and strategic vision for 15 to 20 hours of live programming every week. Morgado is a two-time News Emmy award winner for breaking news coverage of George Floyd's murder and the Roger Stone raid; and a recipient of the prestigious Edward R. Murrow Award for continuing coverage of Hurricane Maria devastating Puerto Rico. At New Day, he delivered the highest yearly ratings performance since the show launched and grew audiences in the demo and total viewers by double digits.
Morgado joined CNN in December 2011 as Senior Broadcast Producer for Starting Point with Soledad O'Brien.
Prior to joining CNN, Morgado was the Vice President of Business Development & Communications for Latina magazine. He was responsible for strategic development of the magazine's print and online properties, crafting the brand's public relations strategy and managing all of its content partnerships & brand extensions. Morgado launched several notable brand extensions which created new revenue streams for the company including: a co-branded syndicated Access Hollywood one-hour special, a licensing line of kitchen and home décor products with QVC.
Prior to joining Latina, Morgado held several management positions at NBC News during his 11-year tenure. Most recently, he served as Supervising Producer of NBC's TODAY show from 2006-2010, where he won two Daytime Emmy® awards for outstanding morning program. He managed editorial aspects of America's top-rated morning news program including script approval, managed assignments and the show's rundown, oversight of legal & standards issues, and he had financial responsibility over the show's production budgets. Morgado also oversaw news blocks in the show's four-hour daily broadcast.
From 2003-2006, Morgado was Senior Editor at the NBC News Network Desk where he managed domestic and international news coverage for the network's news division & MSNBC. He was instrumental in breaking several national stories for the network – most notably the Space Shuttle Columbia disaster in 2003. Morgado launched the network's National Crew Desk realizing $5 million in budget savings in its first year.
Morgado also managed the network's political coverage for the 2004 presidential election and 2006 midterm elections as Senior Political Editor. He coordinated editorial operations for NBC News at the primaries, conventions and presidential debates. In 2003, Morgado managed NBC News teams embedded with the U.S. military during the Iraq war in 2003. He cultivated several newsgathering partnerships that were instrumental to the network's award- winning war coverage.
Before coming to the network in 2001, Morgado was the Assignment Manager at NBC owned-and-operated station WTVJ in Miami, Florida. He was involved in covering several national stories including the search for September 11th terrorists, the 2000 presidential election debacle and the Elian Gonzalez saga. The Miami native began his journalism career in 1995 at WPLG (ABC affiliate), a Post-Newsweek station.
Morgado holds a Master of Business Administration in media management from Fordham University and a Master of Science in human resource management from New York University. He completed his undergraduate studies at the University of Miami in Coral Gables, Florida, where he received a Bachelor of Science in communication. Morgado also completed two executive education programs in media management at the Harvard Business School and Northwestern University's Kellogg School of Management. In 2009, he was a McCormick Fellow at Northwestern University, an executive development fellowship for multicultural senior managers in media.
Morgado was an adjunct professor at Columbia University Graduate School of Journalism from 2017-2020. He is a lifetime member and former board member of The Association of LGBTQ Journalists (NLGJA). Morgado is also a lifetime member of the National Association of Hispanic Journalists (NAHJ). He is currently the Vice Chairman of the Board of Trustees for the prestigious Martha Graham Dance Company in New York City. Morgado also serves on the Board of Directors of the Stonewall Community Foundation and the University of Miami Alumni Association; and on the Dean's Advisory Committee at the University of Miami School of Communication.