Corrigan was an avid supporter of the Miami Hurricanes, graduating in 1949 with a degree in Business Management and Organization. "No question, we all bleed green and orange," shares his daughter, Susan Corrigan, B.S. '93. With a family, full of 'Canes, George set the bar high, leading a successful business, a world-renowned City, and the UM Alumni Association to new heights.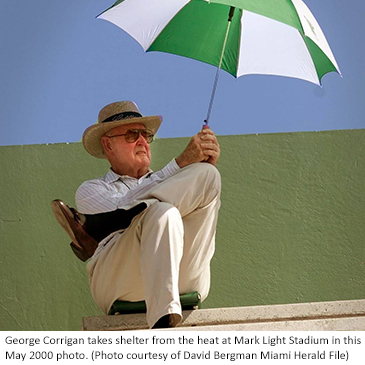 As a student at the University of Miami, Corrigan was inducted as a member of the prestigious University of Miami Iron Arrow Society, was a member of Alpha Kappa Psi, Omieron Delta Kappa, Band of the Hour, The Hurricane Newspaper, undergraduate student government and Sigma Chi.
Corrigan is quoted as saying, "Coral Gables is a beautiful city. I know it well." Susan shares vivid memories of her father monitoring progress and growth around Coral Gables. She recalls her favorite photo of her father, perched atop of Mark Light Field, holding an umbrella for the sun, taking in his 'Canes Baseball game. "That was one of his favorite places to be; watching baseball with a hot dog or cotton candy; or watching a Hurricane football game," shares Susan. Corrigan held season passes for both UM teams.
A lifelong resident of The City Beautiful, Corrigan earned his business degree from University of Miami in 1949, and was mayor of Coral Gables from 1987 to 1993. 
Corrigan excelled in business, spending a good length of his career managing Burdines, leading its most profitable store in Dadeland Mall. He made a late-career switch to banking; jumping from 33 years at Burdines to the presidency of the Bank of Coral Gables in 1983.
George served on numerous boards, including the Coral Gables Community Foundation, First United Methodist Church, South Miami Hospital and Baptist Health. He was past president of the University Club, University of Miami Alumni Association from 1974-1975, and the Country Club of Coral Gables. 
He was twice elected to Riviera's Board of Governors and he served as Club President from 1998-1999 and Club Secretary for seven years after his presidency. 
A memorial service will be held on Friday, May 25th, at 11 a.m., at the First United Methodist Church, located at 536 Coral Way, Coral Gables, right behind the Coral Gables City Hall.
In lieu of flowers, George's family has asked for donations in George Corrigan's memory be sent to the University of Miami Alumni Association.