Jeanne V. Rowlee, Esq., has been fascinated by sharks since she was a little girl in New Jersey, watching Jacques Cousteau documentaries and perusing pictures of sharks in the National Geographic books her parents brought home.

"Every time we went to the beach, I would think, 'There are sharks out there.' To this day I say it. When I'm at the beach with my husband, I tell him, 'You know they're out there,'" she laughed.

Despite her abiding interest, Rowlee never thought that a career involving sharks was possible—particularly for a girl.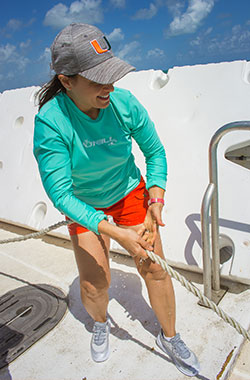 With that in mind, Rowlee recently made a life insurance gift to support the innovative Females in the Natural Sciences (F.I.N.S.) program at the Rosenstiel School of Marine and Atmospheric Science. F.I.N.S. encourages girls' involvement in the sciences through engaging, hands-on experiences alongside female role models.

In appreciation for her gift, F.I.N.S. invited Rowlee and her husband, James D. (Jim) Rowlee, J.D. '97, to participate in a recent day-long shark tagging excursion.

As the crew located lemon, blacktip, and nurse sharks off Key Biscayne and brought them aboard, about two dozen girls between the ages of 10 and 18, from local public and private schools, helped to pull in the drum lines and perform the workups—taking length measurements, extracting tissue samples, and attaching tags.

The crew members, all female graduate students at the Rosenstiel School, also spoke to the girls in detail about their research concentrations. Professor Claire Paris, an expert in larvae and their migration as well as a world-class competitive free diver, talked about how these pursuits have taken her around the world.

"I was absolutely captivated," Rowlee said. "My eyes were wide open the whole day."

Rowlee was impressed that the girls might "have a totally different trajectory with their lives based on that one experience. I like to support the F.I.N.S. program as a woman, knowing that if I had had this experience at 12, 13, 14, I might have gone in a different direction," she said.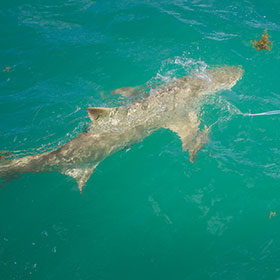 F.I.N.S. is part of the broader community outreach efforts of the Shark Research and Conservation Program. Under the direction of Dr. Neil Hammerschlag, research associate professor at the Rosenstiel School and the Abess Center for Ecosystem Science and Policy, the SRC engages over 1,000 students from schools across Miami-Dade County each year.

About the impact of her planned gift, Rowlee said, "It's nice to know that other people will have an opportunity to do something that I didn't, and to know that sharks will continue to be researched and protected and studied by future generations, which means we're making the world a better place."

For more information on planned giving, visit miami.edu/plannedgiving, or contact Kyle Paige, Executive Director, Office of Estate and Gift Planning, at (305) 284-2266 or kpaige@miami.edu.