While studying at the College of Engineering, then-freshman Joselyn Perlmutter asked herself "what are my passions?" Today she is a pastry chef and owns her own business.
In 2013, Joselyn 'Jossie' Perlmutter, BSBA '13, graduated from the School of Business Administration ready to take on her own enterprise.
The Foote Fellow completed school a year earlier than scheduled, so she set out for Yssingeaux, France where she would learn the skills required to become a pastry chef – skills she would ultimately pair with knowledge gained at UM to start a small business in Charlotte, North Carolina. "Most of my entrepreneurship class projects involved food service businesses, which gave me insights to some of the challenges I would face in the real world," she said.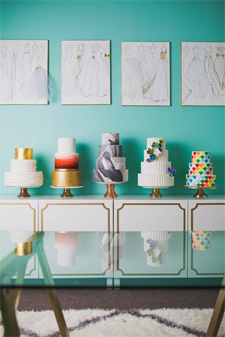 Working for talented chefs and studying at Ecole Nationale Superieure de Patisserie – owned by world-renowned chef Alain Ducasse – allowed Perlmutter to hone her culinary skills, expand on her experiences and dive into the business side of the food industry. She went on to develop the bread and pastry programs at three fine-dining restaurants in Charlotte.
But it's her own venture that makes her most proud: Sweet Affairs offers artisanal dessert experiences to its patrons. Her sweets are often found at local weddings and showers and she was recognized by the North Carolina Restaurant & Lodging Association as Pastry Chef of the Year 2017. She runs her business out of her shared kitchen, which other small businesses use to avoid the hefty overhead costs of a brick and mortar.
In true 'Cane fashion, she gives back to the community by hosting her annual charity event called Sugar Shock, whose proceeds go towards the Project 658 Culinary School, serving refugees living in Charlotte. So far, three full scholarships have been awarded with participation and support from Charlotte locals.
Between running her own business and organizing her charity event, Perlmutter confessed that a decade ago she wanted to be a doctor. Fast forward ten years, the epiphany she had as a freshman at the College of Engineering led to entrepreneurship, charity and confections. "I think I am a great example of life not going according to plan," she joked.