Randy Ogren, B.Ed. '72, has spent the better part of his life immersed in a world of fantasy and imagination. Where a child only dreams about talking animals and enchanted kingdoms, RJ, as he's known, quite literally creates these impossibilities and brings them to life. He is an artist, author and actor, and in the 70s, he was an Audio-Animatronic artist at Walt Disney World.
RJ began taking painting, drawing and photography seriously while in the Navy, and kept up his interests through two tours in Vietnam. He was discharged in 1966. He joined the Army National Guard in 1976, with the rank of Staff Sergeant in charge of the Brigade public information office. He was awarded the Florida Commendation Medal by Governor Reubin Askew in 1978 for Meritorious Service. At the same time he joined the Guard, he was also hired by Walt Disney World to be a monorail pilot. It wasn't long before he began his professional career as a Disney artist – three months to be exact.
"I have been an artist my entire life," he says. "I can remember drawing Donald Duck when I was three. I started putting my paintings in galleries in 1969 when I was still a student at the U, studying art, architecture, sociology, psychology, teaching and beginning to gain a strong interest in history. All of this helped me get the job as a management artist at Walt Disney World."
Meeting his wife, Suzanne, in sophomore Drama class at Miami Norland High School played a pivotal role in RJ's life. The high school sweethearts ultimately wed between his tours in Vietnam, and she also began her Walt Disney World career as a monorail pilot.
"I owe my accomplishments to strong support from my wife and family, the University of Miami, Disney, Disney Legends and tenacity," he says. "I have always believed in never giving up. There is always a solution to every problem."
Arguably one of RJ's most unique professional experiences was working as an audio-animatronic artist at the Magic Kingdom, where he worked with three other artists in a studio behind the "It's a Small World" attraction. "We put skins on all the figures: pirates, bears, presidents, animals, ghosts, etc. and painted them with very fast drying acetone paint. We painted and repaired all the fiberglass figures such as Peter Pan, Mr. Toad and Snow White."
"We did artwork on everything you saw in all the attractions; all the figures, sets and props in the attractions, including The Pirates of the Caribbean, The Hall of Presidents, The Haunted Mansion. Jungle Cruise, Carousel of Progress, Space Mountain, Splash Mountain, Mr. Toad's Wild Ride, Peter Pan's Flight, Snow White's Scary Adventure. We even scuba dived in Twenty Thousand Leagues Under the Sea."
"We had a ball and had many amusing things happen to us in the Studio and in the attractions. It didn't help that we were great practical jokers. Many of these stories are in our books."
Through all the wild rides and whirlwinds of working at Disney, RJ looks back on his time at UM as having been impactful. "I loved being a student at the U. The classes, the campus, the sports… especially football! My first one-man art show was on the second floor of the Student Union and Dr. Henry King Stanford came for the opening. The student paper wrote an article about it."
In 1981, RJ received the UM Alumni Outstanding Service Award for creating the second generation Sebastian the Ibis mascot, and starting the Alumni Association branch in Orlando. That same Sebastian rode in the convertible with Coach Howard Schnellenberger in the 1983 National Championship Parade in Coral Gables.
"If I had to give alumni or students a word of advice, I'd say don't be afraid to make choices that may take your career on a totally different path than what you envisioned," he says. "If you fail, learn from your mistakes, pick yourself up and start again. Treasure your time at the U and all that you will take with you into the future."
Alumni and visitors can find copies of the books he co-wrote with his wife (published by Theme Park Press) about their unique careers at Walt Disney World ("Together in the Dream," "Remembering the Magic," and his own book "The Design of Fear") in the Toll Library of the Newman Alumni Center. His painting of Sebastian, in green top hat and tails, hangs in Sebastian's Café, also at the Alumni Center.
Among his most notable commissions is a 72 x 23 foot mural in Wheaton, IL, showing the diversity and history of the town shaped by immigrants. The hot air balloon in that mural is his ode to the U. He says, "I hide Mickeys in my murals and paintings, and I often hide the U in them too."
You can virtually meet RJ through his weekly Facebook Live sessions, each Friday at 3 PM (CST), where he paints Disney pieces for his audience. You can also learn more about his artistic ventures on his website: www.rjogren.com.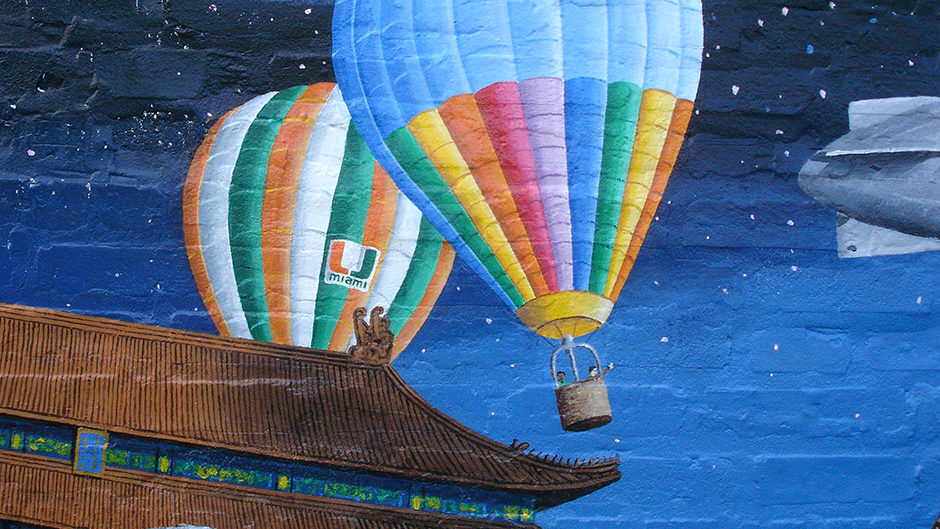 Wheaton, IL