Mark Richt's weekend began with a bunch of ninth- and 10th-grade recruits on Friday at a University of Miami football camp. It continued Friday night with the coach's now trademark back flip off a 10-meter diving board.
And it concluded Saturday night with "paradise'' for more than 200 of the best 11th- and 12th-grade high school players in the nation.
Paradise Camp, which Richt created last year as an enticing draw for teenage recruits intent on being taught by UM legends, once again inspired and thrilled — on this night, however, at the campus' intramural fields as construction on the indoor practice facility is taking place at Greentree Field.
"I tell the kids, 'If you can just take one thing out of a camp like this that you learn that maybe you didn't know going in and you apply it to your game, it's well worth it,' '' Richt said as the campers gathered.
"Just the experience of being around greatness,'' he added, "former and current," makes the camp an unforgettable experience.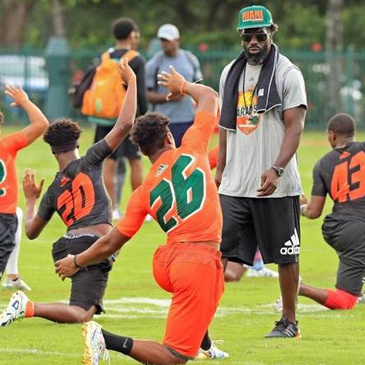 The camp drew a dizzying array of Hurricanes greats: Ed Reed, Jeremy Shockey, Willis McGahee, Michael Irvin, Brett Romberg, Calais Campbell, Jonathan Vilma, Jon Beason, Kenny Phillips, D.J. Williams, Antrel Rolle, Bryant McKinnie, Vince Wilfork, Devin Hester — with the current coaches leading the super-charged practice session.
"They told us, 'Just be yourself. Do whatever you feel is right,' " former running back McGahee said. "These guys look up to us, and they can get a lot out of two or three hours. I wish we had this. Didn't have nothing like this. Didn't have nobody to talk to but neighborhood friends.''
Pro Football Hall of Fame receiver Irvin, who lettered at the U from 1985 to '87, said he saw some mesmerized teenagers when the players were first introduced to the recruits in the student center.
"I just wanna be around the kids, man,'' Irvin said, "just pass on to them what it was like when we stepped on these practice fields and how it became what it was, how proud we were to play for one another and how hard we worked against one another.
"… You could see their eyes light up at what they have an opportunity to be a part of,'' Irvin said. "… Being here is important. … This is Miami. You come be a part of something. You dominate here, you own Miami. … You dominate here, you own the world.''
Four-star commit Al Blades Jr., 17, whose late father, Al, was a standout UM safety and whose uncles Brian and Bennie were UM greats, stood and watched the campers from the sideline.
"This is amazing, seeing how everything works,'' he said about an hour before the camp began. "There's a lot of knowledge here, a lot to take from. I'm just going to be picking everybody's brain today.
"I feel a connection to my whole family here, my dad, and everyone who has ever come through this program. This is a family itself.''
Richt said the entire weekend had been a hit, including his daunting back flip off the high dive, which he has done every year — whether at his former school, Georgia, or back at his alma mater, UM, in the late '70s and early '80s to impress the coeds.
Continue reading the story on MiamiHerald.com