Aaron Scharf traveled across the country recently to help honor the physician he says helped to change his life. Scharf, 24, who lives in Huntington Beach, CA, says he was adamant about wanting to be on hand when Maria Abreu, B.S. '87, M.D. '90, professor of medicine, microbiology and immunology, and the Martin Kaiser Chair in Gastroenterology at the University of Miami Miller School of Medicine, received a prestigious honor from the South Florida Chapter of the Crohn's and Colitis Foundation.
"I wanted to be there to thank her for everything she's done for me," said Scharf. "Her help means that much to me."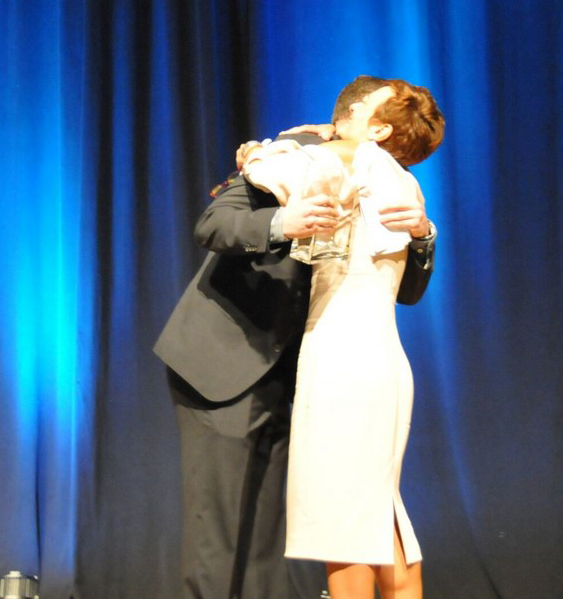 Scharf had the privilege of introducing Abreu at the Foundation's 28th Annual Book of Hope Luncheon, which was held March 12 at the Boca Raton Resort and Club. 
More than 350 people were on hand when Abreu received the 2018 Honorary Book of Hope Award, which is given each year to the person who has had the most significant impact on the chapter.
"She has been an integral part of our Foundation for many years," said Bonnie Scharf, who in addition to being Aaron's mother, is also the president of the South Florida chapter. "She is an amazing physician and one of the top doctors in the country. She is always available when we have patients who are in need of help."
Abreu, who also serves as a board member for the Foundation, said it was an honor to receive the award.
"The first wonderful surprise was the call from the CCF that I had been chosen for the Book of Hope award," said Abreu, who is also the director of the Elaine and Sydney Sussman Family Crohn's and Colitis Clinic at UHealth—University of Miami Health System. "The next great surprise was having Aaron deliver the award, which is from the patients and the families I care for…and that, to me, is priceless. It also recognizes the wonderful team of nurses, staff, and physicians that I am privileged to work with."
A renowned gastroenterologist, Abreu's research focuses on the intestinal immune system and how the intestine co-exists with intestinal bacteria. Since coming to UM, she has focused on the rising incidence of inflammatory bowel disease (IBD) in immigrants to the United States from Latin America and in Hispanic-Americans. She was most recently awarded a National Institutes of Health (NIH) grant to study the genetic basis of IBD in Hispanics.
Abreu received her undergraduate and medical degrees from the University of Miami. Her postdoctoral training included an internship and residency in medicine at the Brigham and Women's Hospital in Boston, Ma.
She then completed a fellowship in gastroenterology and a postdoctoral fellowship in molecular and cancer biology at the University of California, Los Angeles.

The Scharf family sought out Abreu three years ago to try and find help for Aaron, who had been diagnosed with ulcerative colitis at the age of 13.
Until that time – even with medications – he was struggling: losing weight, unable to keep up with his friends, and battling anemia from his repeated bouts with the illness.
When he met Abreu, he says she insisted upon further testing, which led to several changes in his medicine regimen, and, eventually, his disease going into remission.
"She's not like any other physician," said Aaron, who has a sister named Rachel, 28. "She goes above and beyond just caring for patients, with research and her philanthropy."
Gary Scharf, Aaron's father, agrees.
"Without a doubt, she saved my son's life," said Gary. "She is one of the most unique people I've ever met. In addition to being one of the foremost experts in the world in her specialty, she has the ability to induce confidence and calmness in her patients."
The Book of Hope Luncheon is one of the Foundation's signature events, with the goal of raising awareness and funds to help find a cure for those with digestive diseases.
Nicolas Perricone, M.D., the author of Forever Young and The Perricone Diet, served as keynote speaker.
For the past five decades, the Crohn's & Colitis Foundation has been at the forefront of research in Crohn's disease and ulcerative colitis, also known as inflammatory bowel diseases. The Foundation funds cutting-edge studies at major medical institutions to help nurture investigators at the early stages of their careers, and also finances underdeveloped areas of research.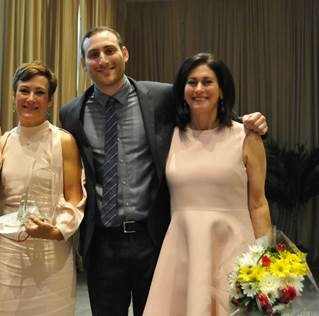 The South Florida chapter has more than 94,000 donors and constituents throughout the State.Through various programs, it supports patients and family members with education programs, programs, and community awareness and advocacy.
The chapter's signature Take Steps program engages more than 4,200 participants each year who walk and fundraise for the Crohn's & Colitis Foundation.
"Our mission is to cure Crohn's disease and ulcerative colitis, and to improve the quality of life for children and adults affected by these diseases," said Bonnie Scharf.