Flip through Animal Planet on any given day and you'll catch Treehouse Masters, the show that follows Pete Nelson and his sons as they design and build completely customized treehouses. The show will make anyone envious of the creative, often whimsical designs that Pete conjures up with his team. But there's one University of Miami alumna where said envy need not apply.
Maha Kikugawa, A.B. '13, is the co-founder of Treeful, a luxury treehouse eco-resort in Okinawa. The tri-lingual Japanese citizen works remotely as she travels often, but still manages to handle the interior design and marketing for each build. She even helps in the construction process.
"I am here today because of my father who always inspires me, and my mother because she always believes in me and my education," she said.
The Tokyo native grew up in one of the most high-tech and bustling cities in the world, but spent a lot of time in nature, visiting mountains and oceans where she could. The importance of nature and the great outdoors is a result of Maha's father's influence. "Ten years ago, I wanted to become an orangutan sanctuary worker in Borneo. I was concerned about deforestation in the world and wanted to do my part to save lives."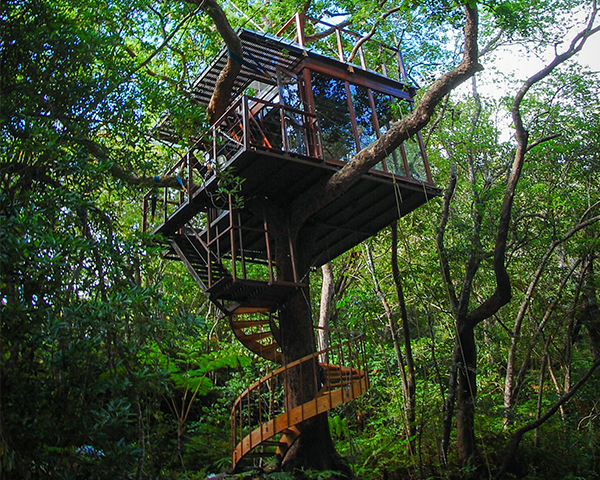 In 2013, the dream of sancutary work took a backseat when she and her father visited a tree house resort in Costa Rica and became inspired to create their own in Japan. Upon their return home, Maha officially ventured into the world of eco-tourism, and luckily, still feels like she's making an impact. "Our business model will make people wealthier by protecting nature, which results in more trees saved, therefore we can save animals like the orangutans… clearly after ten years my core values have not changed."
Her eco resort will open soon, and she's excited at the prospect of fellow UM alumni making the trip to Japan to stay there. "The treehouses have 360-degree views of the forest, and the only light you see at night is the light in the house, except for lightning bugs, of course. You can read books in the hammock or just lay under the stars. You can go river or cape trekking and jump into waterfalls."
Maha is also the co-founder of a Tokyo fitness community, and an ambassador for lululemon and Spartan Race. She's a part-time licensed yoga instructor and an official Instagram influencer for New Caledonia Tourism.
Maha is our first alumna to volunteer for our #CanesTakeover on Instagram! Check it out on our story before it goes away!