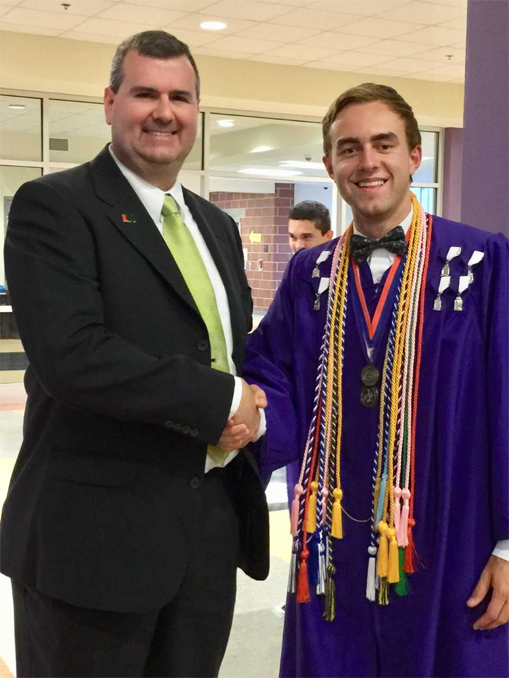 Rebecca Shore knows the challenges of the college selection process well, as her son Bobby just completed his freshmen year at University of Miami. As a college professor in North Carolina, Rebecca reached out directly to the UM Alumni Association to share her story about a "Super 'Cane," who changed the experience into a remarkable one, with all roads leading to the U.
Read Rebecca's story:
Last year when my son was filling out his college applications, he sent one out as an afterthought to The U, only because a neighbor friend told him that the University of Miami was "the most beautiful college campus in the country."  After being enticed by a bit of scholarship money, he decided he wanted to visit The U for himself.  I had never been to Miami so I was happy to go on an adventure with him. His dad, a graduate of the "other" Miami, had a business trip scheduled during scholarship weekend and couldn't come along.
I'm sure you can recall your first encounter with the campus at The U. We experienced the wide-eyed, jaw-dropping response around every palm tree at the breathtaking beauty! Of course, we got in a quick trip to South Beach, but that was just icing on the college cake. In the airport on our way back from UM, Bobby told me that he wanted to go to Miami, no matter what it took!  I told him "we will discuss it with your dad."  A month later, when Bobby was offered the Stamps Scholarship, he accepted instantly on the phone (over a 4-year scholarship to Carolina!). His last college choice had become his first and his new dream had come true!
Then in April, his school counselor asked if there was anyone that could present him with the scholarship at the end-of-year awards program. We were directed to look into a possible UM Alumni Chapter to try and find that person. This is where we found our Carolina "Super 'Cane," Jason Wilson.  Jason graduated from The U in 1998 where he was an active member of the Band of the Hour and a Civil Engineering major. His love for The U lasted long after graduation! Since relocation to Charlotte in 2013, Jason became heavily involved with reviving the local alumni chapter, and he has even served as president of the Charlotte 'Canes for the past three years.
The presentation of Bobby's Stamps scholarship was near the end of the high school program that night last year, and right after another prestigious scholarship to a "lesser" rival school. Jason stole the show with his humor, combined with professionalism, intellect, and obvious love for The U. He and Bobby enjoyed thunderous applause afterward. We have since heard that additional students from his high school applied to The U, some got in, and two others are transferring there next year. The Charlotte 'Cane family is definitely growing!
After connecting with Jason, we have enjoyed many events with the Charlotte 'Canes, even though my son has only been there a year. We hosted a send-off for the area 'Canes, and created a subcategory of new Charlotte 'Cane Moms, a group that has doubled in size for Bobby's upcoming sophomore year.  Jason and the Charlotte 'Canes have sponsored countless opportunities to watch sporting events all year at various venues, and while we were all a little disappointed at the result of the Orange Bowl, we had a blast getting there just the same. (And since my daughter is a Clemson grad, she gets bragging rights this year.) Over the holidays, we went to a college fair with some neighbors and there was Jason in the University of Miami booth, talking the Hurricanes up like a storm. Jason has been pushing us all to register our vehicles to make UM license plates an option in North Carolina, and his tenacity and enthusiasm has us very near that goal!
One person can't do it all, but leadership definitely matters. It has been Jason Wilson's love for The U that has sparked so much synergy for the 'Canes in Charlotte. If there were ever a "Super 'Cane" Alumnus, it has to be Jason Wilson right here in Charlotte, North Carolina. We all thank him for his leadership, hard work and dedication to The U. Go 'Canes!