The University of Miami Leonard M. Miller School of Medicine was Amanda Le's first choice when it came to selecting a medical school. She loved the research opportunities, and the ability to do her clinical training in the region's leading teaching hospitals.
But figuring out how to pay for medical school was a problem. It wasn't until Le was offered the Morton and Alma Elterman Endowed Medical Scholarship that she knew she'd be able to see her dream come true.
"The fact that UM gave me a very generous scholarship allowed me to go to my top school," said Le, an M.D. candidate with the Class of 2019. "It has meant I have much less stress and more flexibility in my career decisions, so I can pursue my passion, which is pediatrics."
Le was the first recipient of the Morton and Alma Elterman Endowed Medical Scholarship, a need-based financial award that was established by the Pediatric Epilepsy Research Foundation, or PERF, which is led by Miller School alumnus, Roy D. Elterman, M.D. '74 and Donald Shields, M.D., emeritus professor of neurology and pediatrics at the David Geffen School of Medicine at the University of California Los Angeles.
Named for Elterman's parents, the scholarship is one of two that PERF created in 2014 to ensure that the Miller School will always have the ability to attract high-quality students and also be able to provide financial assistance to a deserving student.
The second scholarship, The Dr. Roy D. and Ragen S. Elterman Endowed Medical Scholarship Fund, is a merit-based fund that was awarded to Zachary Schwartz, M.D. candidate, Class of 2021.
Both endowments are supported by an incredible $2 million donation provided by PERF, a not-for-profit foundation that supports research in pediatric epilepsy and other pediatric neurologic conditions.
Four years after creating the awards, Elterman says he's proud to see how well the first two recipients are doing.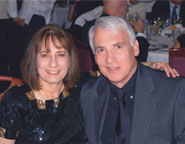 "Ragen (my wife) and I are both very pleased with the student's successes and their enthusiasm so far," Elterman said. "Also, they have both chosen fields that relate very well to my work as a pediatric neurologist, so I am excited about that."
While Le wants to go into pediatrics, Schwartz hopes to focus on psychiatry. He is particularly interested in the philosophy of psychiatry, which deals with the conceptual foundations of mental disorders and the philosophical difficulties in diagnosing and treating them.
Schwartz, who just finished his third year, said the scholarship had a significant impact on his course of study.
"I think the scholarship has freed me up to do exactly what I want to do in medicine without having to worry about financial constraints," Schwartz said.
The feeling is one that Elterman well remembers as a medical student in the early 1970s. Though his parents were able to pay his tuition, he says merely being honored with an award was, in itself, "incredibly powerful."
"I have always been appreciative of the scholarship that I received, and it seemed appropriate to return the favor," said Elterman, who serves as the president of PERF and was a Dallas-based pediatric neurologist before retiring several years ago.
PERF was created in 2004, ten years after Elterman and Shields started an investigator-initiated study of the drug vigabatrin for the treatment of infantile spasms, a form of epilepsy that usually affects up to 2,000 infants each year in the United States, typically under one year of age.
In the early 2000s, Ovation Pharmaceuticals purchased the U.S. rights for the drug from Aventis Pharmaceuticals. Ovation created a separate agreement with Drs. Elterman and Shields that provided a royalty to establish a Foundation focused on research in pediatric neurology and pediatric epilepsy.
That royalty, from the sale of vigabatrin, has provided substantial funding for PERF. Although the patent on vigabatrin expired in 2017, Elterman says the Foundation is currently involved in new studies that should keep PERF healthy and operating for some time to come.
One of those studies, the first of its kind to be conducted in the U.S. and funded collaboratively by PERF and West Therapeutic Development, is to determine the efficacy of combining synthetic adrenocorticotrophic hormone (cosyntropin) with vigabratrin as a potential treatment for infantile spasms.
Elterman says synthetic ACTH is used in nearly every country in the world for the treatment of infantile spasms, except the United States, where it is not currently approved.
"These are the type of studies we like to fund because the findings have the potential to dramatically change lives," Elterman said. "We are excited to see the results of this project, which is based on a similar European study that indicated a 71 percent response rate to combination therapy (syn-ACTH or oral steroids plus vigabatrin) versus a 54 percent response rate of syn-ACTH or oral steroids alone."
Since 2010, PERF has also provided grant funding to child neurologists for work related to many other neurologic conditions in infants, children, and adolescents. The foundation has endowed chairs in pediatric neurology and pediatric epilepsy at the University of Utah, UT Southwestern Medical Center, and UCLA.
Elterman says they recently extended funding to the Child Neurology Foundation for two awards for young investigators. Also, PERF is funding projects to build registries and infrastructure in child neurology, which will help investigators at different institutions work together on rare pediatric neurologic diseases.
But at the Miller School, Elterman's alma mater, the focus is on scholarships and staying abreast of how the recipients are doing. "We are extremely grateful to alumni like Dr. Elterman," said Alex J. Mechaber, M.D., professor of medicine; senior associate dean for undergraduate medical education; and co-director, Clinical Skills Program & Competency Assessment. "This gift allows the Miller School to provide more competitive financial packages to accepted students and continue to attract the best and brightest. This is all part of a long-term strategic plan to expand scholarship dollars to students based on academic merit, diversity, and need."
Looking back on his career, Elterman says he still considers it "an honor" to have been able to study medicine, and he wants to ensure that other aspiring physicians have the same chance.
"It is incredibly wonderful to have that opportunity," Elterman said. "We should all reflect on the gift we were given as physicians, and we should consider that in terms of deciding whether or not we want to pay it forward."