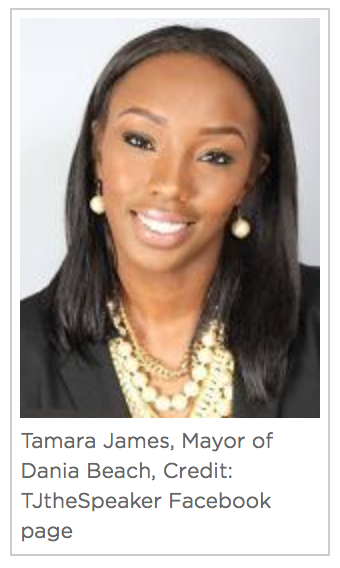 James led South Broward High School to three consecutive state titles and was named the 2002 Florida Player of the Year. She received a scholarship to play at the University of Miami (Florida), and became the only freshman in Big East Conference history to lead the league in scoring with 21 points per game. After earning a degree in liberal arts, James landed a spot in the WNBA, drafted eighth by the Washington Mystics in 2006.
Now, she's back in her hometown of Dania Beach, Florida, making plays not from the basketball court, but from the city hall.  James has been the mayor of her hometown for over a year.
"Tamara is energetic and knows how to network with any generation," Dania Beach City Commissioner Bobbie Grace says. "She is a very transparent person. She thinks outside the box, and I think all of this has helped us as a team. … She's really a pleasure to be working with."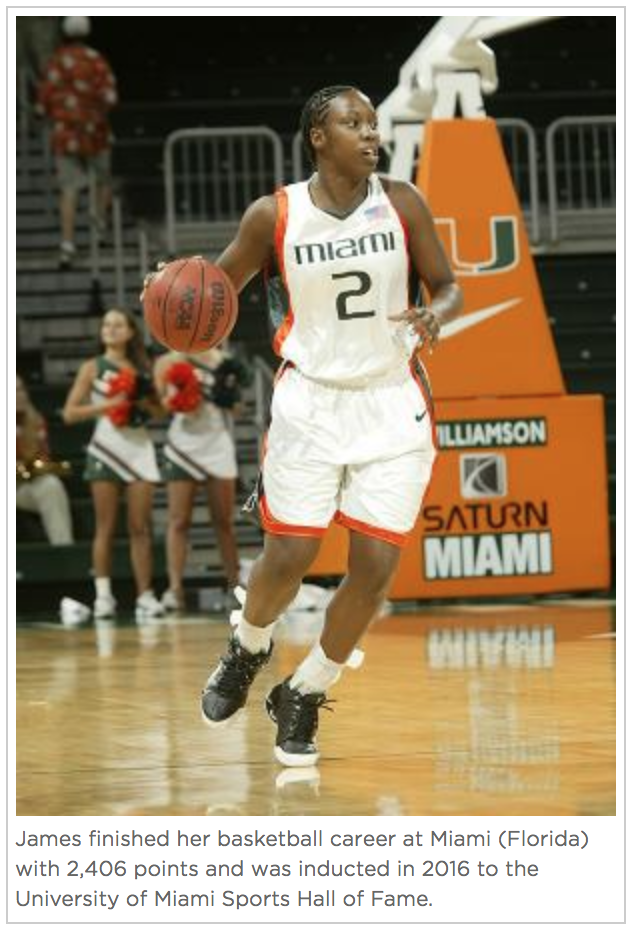 James says it was an easy decision to return home after playing professional basketball. She longed to provide resources for kids and young adults so they could enjoy opportunities she didn't have while growing up in poverty.
"I felt like the city of Dania Beach could use my help, especially for the younger generation," James says. "We needed more programs for our seniors and our youth. We needed to rebrand our city and to provide transparency between government and our residents here."
James began giving back to her hometown shortly after she graduated from college, when she started the Tamara James Foundation, a nonprofit helping local underprivileged youth succeed in sports by providing sponsorships and opportunities to be seen at the next level. The foundation is partnered with the University of Miami to host basketball clinics for the kids. Youth also have the opportunity to attend Miami football and basketball games throughout the year.
James' foundation provides tools to prepare the athletes for life after sports, including a mentorship program, tutoring sessions, health clinics and computer programming classes. The foundation's motto is "more than just a ball."
Her service to her hometown doesn't stop at the foundation. James ran for mayor because she wanted to be an active role model for the kids, different from the distant celebrities they see on television.
"For me — being a student-athlete, traveling the world, being a professional athlete — it gives the kids hope," James says. "I'm from this community; it's very important for those who are able to come back and give back to do just that."
Written By Anita Nham
Originally published online at www.ncaa.org/formerstudentathlete

To find similar stories and a career center for former NCAA student-athletes, visit NCAA After the Game® at www.ncaa.org/formerstudentathlete.