The University of Miami's 2019 Women's Soccer Team promises to be very competitive in the ACC this season. Coach Sarah Barnes was outstanding at recruiting some key additions to a squad with several returning players who are used to her system. There's a lot of excitement that this year's team will build on last year's successes. The stands at Cobb Stadium should be filled again as the Hurricanes host eight home games against some of the nation's best women soccer programs.
All that said, this story is about the University of Miami's Men's Soccer program. Wait, did you just read Men's Soccer program? Yes, you did. You may not know it, but UM had a Men's Soccer program from 1961 to 1984. For twenty-three years, Miami Hurricanes student athletes from all corners of the world walked onto the Greentree Field behind the Hecht Athletic Building to practice for three hours a day and compete in a ten to fifteen game schedule.
So, to start a UM Soccer program in 1961, was to say the least, a difficult task.
How do you find a Coach that knew the rules, positions and strategies of the sport named soccer in the USA but football worldwide? The short answer was the UM Tennis Team! It turns out the Men's Tennis Team had a very successful coach in Dale Lewis and after some coaxing, he agreed to be the coach of the UM Men's Soccer Team. Tryouts in hot and humid August brought out some players who knew little about the sport but wanted to participate in athletics at the collegiate level.
Luckily, being an International university, some foreign students came out to the field and were quickly incorporated into the squad. Coach Lewis also asked some of his tennis team's student athletes to round up the numbers of his adopted squad. Some names inducted into the UM Hall of Fame (for Tennis) were part of his soccer teams.
The international players helped out as they would teach their teammates about positions, ball control, movement into space without the ball (a concept basketball players understood), and off-sides (that hockey fans might have understood if that sport had had any fans in Florida back in the sixties!)
As UM IBIS yearbooks and Miami Hurricane newspaper articles from those years will attest, the quality of the play was not always stellar. The effort was present but without any scholarships or soccer budgets to speak of, the players indeed played for the love of the game. Road trips were in vans – all the way up to North Carolina! To cut on the expense of a hotel room the night before the game, the team would show up to the opponent's campus a few hours before the game. They unfolded their cramped legs from the fourteen-hour van ride and got on the pitch to represent the University of Miami in the best way they could. The experience, as the saying goes, "built character" but didn't reflect well on the team records. That said, speaking to those Alumni soccer players today, fifty years later, they will all tell you those were some of the best times of their lives.
One Alumnus, Brian Killeen (1977), played out his four years at UM and then went on to play for the Seattle Sounders of the North American Soccer League (NASL). His career was cut short by an injury and he returned to UM for his Graduate studies. It was then that he was asked to coach the UM Men's Soccer Team.
He worked his connections to get the local NASL team, the Ft. Lauderdale Strikers, to have them practice at Mark Light Field. Not too many NASL teams played on astro-turf and the Ft Lauderdale Strikers wanted to practice there for their upcoming games with the New York Cosmos.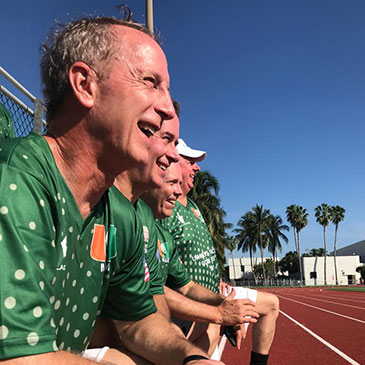 So, in 1979 and then again in 1980, UM Men's Soccer Teams played against World Cup players like Gerd Muller, Teofilo Cubillas, Marinho, and others. Talk about memories from Glory Days! The Alumni that played in those games will bend your ear at nausea if you let them get started telling you about the time they were defending Marinho, that star, from Brazil's 1974 World Cup team.
That game raised some funds for the UM Men's Soccer program. UM's Legendary Baseball coach, Ron Fraser, also helped the student-athletes raise money when he allowed them to work the Mark Light baseball stadium parking lot on some night games. The parking proceeds went to the soccer program's budget, paying for uniforms and away game expenses.
So what happened to the UM Men's Soccer Team? They stopped competing in 1984 when the Athletic Department had to make some difficult decisions on which male athletic programs to eliminate to fall into compliance with Title IX.
It wasn't until years later that the UM Women's Soccer program was created in 1998. The Greentree Field, renamed to Cobb Stadium, was refurbished with new grass, stands for 500 plus fan capacity, a giant scoreboard, and an entrance gate for that awesome Cobb Stadium atmosphere.
If you haven't been to any of the UM Women's Soccer team games yet, you should! The quality of play is excellent and our Hurricanes need your fan support in the stands.
The weekend of October 26 will bring several of the Alumni from those 1961 to 1984 UM Men's Soccer Teams back to Cobb Stadium. They will be coming back to campus for their 5th Reunion. It took them several years to get organized but with the help of the internet and technologies one could only dream of back in the day, here they are, back in Coral Gables!
Last year, UM Women's Soccer Coach, Sarah Barnes, welcomed the UM Men's Soccer team Alumni, allowing them to step back onto their old, now revamped field that they had not played in since they were 18 years old. Director of Development for Major Gifts, Fonzi Restrepo, provided a tour of the Athletic Facilities that dropped a few jaws when compared to those in the seventies! Later in the evening the Alumni were honored at halftime of the UM – Boston College game at Cobb Stadium.
You can visit the UM Men's Soccer 1961 – 1984 Alumni Facebook page and read more about these student-athletes who represented The U with all they had.
These gentleman, now aged 55+ (but who's counting?!) will play a game at Cobb Stadium on Saturday, October 26, 2019 at 6PM. For the women's game against the University of Louisville on Sunday, October 27, 2019 at noon, attendance is free.
We hope to see you there at Cobb Stadium!